♥ Tuesday Weigh-in: 188.0 ♥
Some of the members of my Program team were less than impressed with my break strategy from last week. My group counseling leader suggested that, when faced with a choice on eating like that, I buckle down and really hit the plan hard. Yeah, I don't think she was really listening to what I was saying either.
My dietician, on the other hand, was kind of excited about it. She doesn't suggest that I do it every week, but was really excited that I managed to hop back on the Program with a vengeance the next day. I did well on Friday, ran 3 miles outside and got 8,000 steps (not including the run) on Saturday, and got 9,000 steps on Sunday.
I've also managed to own the lapse with no regrets. My dietician asked if I would feel the same if I had gained this week instead of losing 3.4 pounds. I think I would because it was just something I needed to do and I was willing to accept the consequences.
I really liked what Mary Stella said in the comments last week:
However, you've made a conscious choice to order, eat and enjoy pizza. That looks like a positive way to handle this particular food. You've had a big dose of "doing for other people" and dealt with a lot of things that you couldn't really control. So, making a choice that pleases you and acting on it gets a thumbs up from me.
That's spot on. It was totally about control. I think that's where my group counselor didn't understand what I was saying. She thought I was losing control by ordering the pizza, but really I was taking control of something. And I feel really good about it.
BamBam is finally on the mend as of yesterday, so we're breathing a little easier. Sparky and I are even planning to go on a walking tour of restaurants in/near a downtown farmer's market. And we're going to eat the samples they give us with no guilt.
It's been a rough week of running around and dealing with a resurgence of the diaper rash, which happened on Tuesday, so this post is late. I'm okay with that, though, so I'm not going to apologize.* Check me out – I'm growing!
But, to thank you for stopping by, here's a bonus picture of me holding BamBam at BeBop's end of school picnic last week: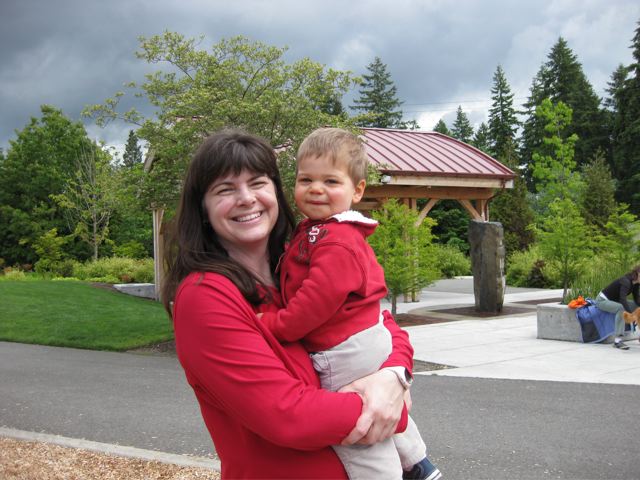 *I don't think I ever related to you the following exchange that occurred on my second or third appointment with my Program one-on-one therapist (different counselor from my group leader):
Me: (bumps elbow on lamp table while taking a seat on the couch) "Oh, sorry."
Therapist: "Did you just apologize to the table?"
Me: "Pretty much, yeah."
Therapist: (with a smile) "We're going to need to work on that."
Me: "Yup."