Several of you have told me (or my mother) in person how much you like the blog. I usually say 'thank you,' but I'm too tongue-tied to say much else. It feels narcissistic to ask for elaboration, but I'm dying to know what it was you liked about it. Was there something that really spoke to you? A general topic or a more specific statement? Do you like my writing style or my voice? My mom says some of her friends want me to write a book. Do you mean fiction or do you want a book about my experience with autism?
A friend recently did a blog post around this quote from Ira Glass: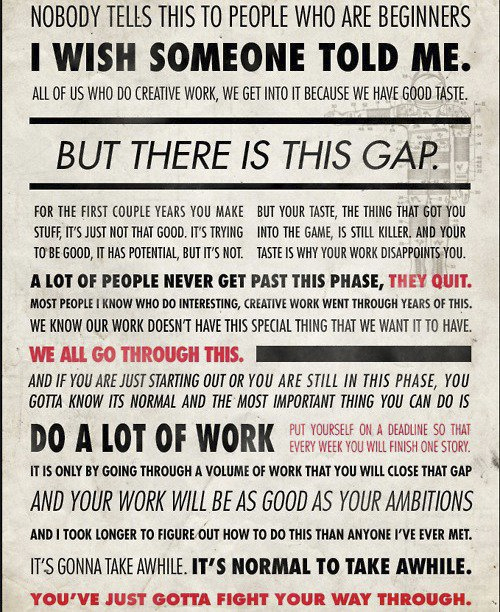 I'm in that spot where I know what's good and my writing just doesn't hit the mark. Yet.
I have an upcoming post about embracing the good enough, but I want to talk about this part now. I need to get back to writing every day. Not because I need another thing on my plate, but because my fiction hurts my eyes to look at (or it would if I was writing any) and writing more of it is the only way to get better. And I love writing. I get totally caught up in creating characters and figuring out the plot. I drive Sparky crazy talking plot points out with him. But when I look at what I put down on the page…blech.
I hesitate to post this because it sounds like I need a pep talk to continue writing when I actually don't. I'll keep writing. I can't stop at this point. That's not what I'm asking for and I'd be incredibly uncomfortable if I got it. What I'm asking for is specifics on what I write that appeals to you individually, though I realize it's a razor-fine distinction. I think the key is in the specifics.
I also realize that it's uncomfortable for many of you to comment on the internet. I respect that. I would like to have something written, though. It's too easy for me to twist what I remember you telling me into something negative or something said to make me feel good. Not that I think you disingenuous, just that I know you are all nice, caring people. So maybe those who aren't comfortable putting anything in the comments, but do want to say something, could email me at (I'm spelling out the symbols to cut down on spam) destination140 at Live dot com.
So tell me about it. Thank you and goodnight.